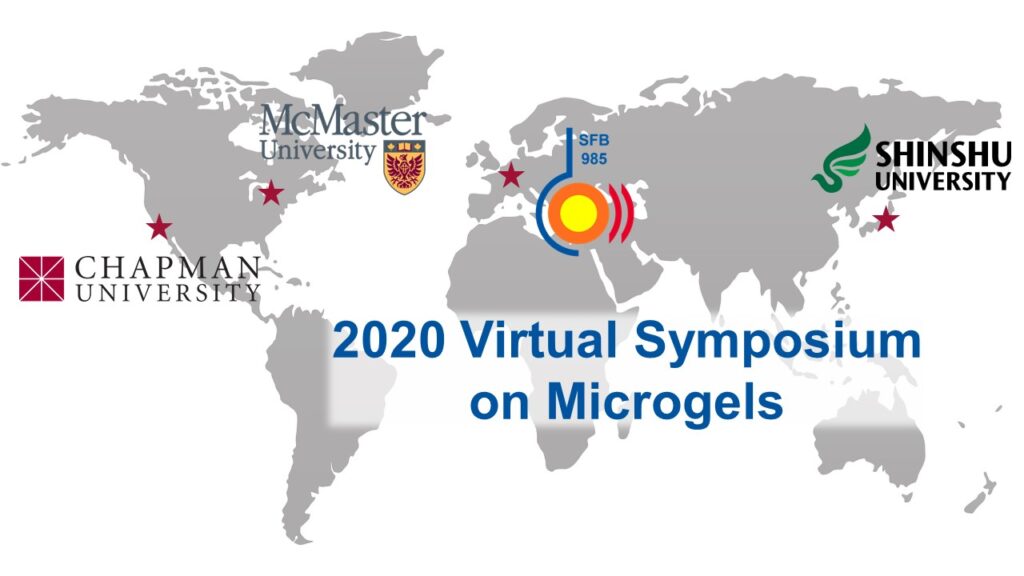 The postponement of the Pacifichem congress and other conferences in 2020 gave us the impulse to foster the exchange between microgel colleagues in a different way:
We are proud to host the 2020 Virtual Symposium on Microgels between the SFB 985 (Aachen, Germany), the Daisuke Suzuki group (Nagano, Japan), the Andrew Lyon group (Orange, California, USA) and the Todd Hoare group (Hamilton, Ontario, Canada).
This symposium will bring together young scientists – PhD students and Postdocs – to present and discuss their latest research and to discover potential collaborations.
It will cover topics from fundamental microgel research to emerging applications of microgel systems.
The meeting will be held online on Zoom.
---
Participation
To test this format, talks from the four organizing groups will be scheduled for the first three meetings. However, the attendance is open to all interested researchers upon registration (see below).
All participants will receive a Certificate of Attendance.
---
Date & Time
The symposium will take place on three dates starting at the end of September with one session per date. The table indicates the local starting times.
Session
UTC
Lyon, USA
Hoare, Canada
SFB, Germany
Suzuki, Japan
Session 1
September 30,
13:00
September 30,
06:00
September 30,
09:00
September 30,
15:00
September 30,
22:00
Session 2
October 07,
04:00
October 06,
21:00
October 07,
00:00
October 07,
06:00
October 07,
13:00
Session 3
October 14,
21:00
October 14,
14:00
October 14,
17:00
October 14,
23:00
October 15,
06:00
Due to four different time zones each session will run for one hour and will contain four talks.
Each talk is 10 minutes long followed by 5 minutes discussion.
---
Abstract Submission & Registration
The participation is free of charge.
Members of the organizing groups can send an abstract for a talk to symposium2020@microgels.de until August 31, 2020.
Please use the abstract template and include your name and affiliation in the email:
Researchers from other groups are welcome to register by emailing us at symposium2020@microgels.de until September 15, 2020.
---
Session Schedule
Session 1: September 30th, 2020, 15:00 CEST (UTC+2)
1 – Eva Mueller (Hoare group)
Cationic, anionic and amphoteric dual pH/temperature-responsive degradable microgels via self-assembly of functionalized oligomeric precursor polymers

2 – Molla Islam (Lyon group)
Core-Shell Microgels with Clickable Crosslinked Cores and Ultra-low Crosslinked Shells

3 – Yuichiro Nishizawa (Suzuki group)
Structural Analysis of Thermoresponsive Microgels by Temperature-Controllable High-Speed AFM

4 – Pia Lenßen (SFB 985)
Process towards microgel superstructures

Session Chair: Maximilian Nöth (SFB 985)
Session 1,
Talk No
USA
Sept. 30
Can
Sept. 30
Ger
Sept. 30
Jap
Sept. 30
Speaker
1
06:00
09:00
15:00
22:00
Eva Mueller
2
06:15
09:15
15:15
22:15
Molla Islam
3
06:30
09:30
15:30
22:30
Yuichiro Nishizawa
4
06:45
09:45
15:45
22:45
Pia Lenßen
Session 2: October 7th, 2020, 06:00 CEST (UTC+2)
1 – Kenshiro Honda (Suzuki group)
Self-Organization of Hydrogel Microellipsoids at the Air/Water Interface During the Evaporation of Aqueous Droplet

2 – Matthias Mork (SFB 985)
Tailored functionalized microgel rods crosslinked into soft macrosporous structures for 3D cell culture

3 – Andrew Lofts (Hoare group)
Sprayable nanogel nanocomposite hydrogels for the intranasal delivery of L-Dopa and complementary therapeutics for treating Parkinson's Disease

4 – Sonja Herres-Pawlis (SFB 985)
Metadata in microgel research for efficient research data management

Session Chair: Eva Mueller (Hoare group)
Session 2,
Talk No
USA
Oct. 06
Can
Oct. 07
Ger
Oct. 07
Jap
Oct. 07
Speaker
1
21:00
00:00
06:00
13:00
Kenshiro Honda
2
21:15
00:15
06:15
13:15
Matthias Mork
3
21:30
00:30
06:30
13:30
Andrew Lofts
4
21:45
00:45
06:45
13:45
Sonja Herres-Pawlis
Session 3: October 14th, 2020, 23:00 CEST (UTC+2)
1 – Hanna Wolff (SFB 985)
High throughput fabrication of pNIPAm microgels

2 – Haruka Minato (Suzuki group)
Self-organization of Polyelectrolyte Microgels during Evaporation of Aqueous Solution

3 – Maximilian Nöth (SFB 985)
MicroGelzymes: efficient non-covalent immobilization of P450 BM3 monooxygenase in microgels carrying permanent positive charges

4 – Xiaoyun Li (Hoare group)
Self-assembled starch nanoparticle-based smart nanoclusters for localized chemotherapy

Session Chair: Kenshiro Honda (Suzuki group)
Session 3,
Talk No
USA
Oct. 14
Can
Oct. 14
Ger
Oct. 14
Jap
Oct. 15
Speaker
1
14:00
17:00
23:00
06:00
Hanna Wolff
2
14:15
17:15
23:15
06:15
Haruka Minato
3
14:30
17:30
23:30
06:30
Maximilian Nöth
4
14:45
17:45
23:45
06:45
Xiaoyun Li
---